New research from the World Bank Group indicates energy storage capacity will increase 40-fold in developing countries over the next 8-9 years; growing to 80GW from 2016's 2GW capacity.
The report, commissioned by IFC and the World Bank-administered Energy Sector Management Assistance Program (ESMAP), says energy storage deployments in emerging markets are expected to grow more than 40 percent each year in the coming decade.
The largest energy storage markets during this timeframe are expected to be China and India.
Energy storage will play a crucial role in helping to meet demand for low-carbon electricity in developing nations. By 2020, these countries will need to double their electricity generation according to the International Energy Agency (IEA), and by 2035 will account for 80 percent of the total growth in energy generation and consumption globally.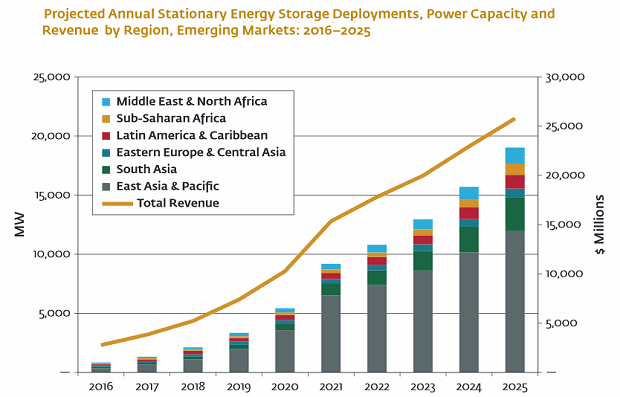 The report says the uptake of battery and other stationary storage technologies would enable emerging markets to roll out more solar power and wind energy, with reduced need for fossil fuel-fired power plants to provide backup when conditions are unfavourable. Storage can also help overcome other grid management challenges associated with variable energy generation from these sources.
"By dramatically expanding the capacity to store energy, these technologies will help countries meet their renewable energy targets, support the demand for clean energy, and help bring electricity to the 1.2 billion people who currently lack access," said IFC Executive Vice President and CEO Philippe Le Houérou.
It's unlikely to be a smooth journey, with significant barriers and challenges ahead to overcome. These include challenges relating to awareness, competition, operational practices, regulatory issues, political and economic instability and procurement.
However, the report states the most important factor in the energy storage market achieving its full potential may be the availability of low-cost financing for project development, as high upfront costs would otherwise limit growth.
"The impact of energy storage technology can be magnified if stakeholders take into account the lessons and recommendations discussed in this report," states the document.
The full report, Energy Storage Trends and Opportunities in Emerging Markets, can be downloaded here (PDF).